Reports

Project Scholarship

About KRCG

---
Highlands
News
Journal of KRCG
Now on-line
Click Here


Northeast Washington Trails:
find a map for your next adventure
Click HERE
Made in
Ferry County
with
solar power


---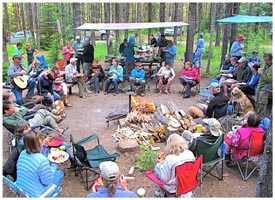 21st Annual Kettle Range Rendezvous
July 7 - 9

Make plans now to attend the 2023 Kettle Rendezvous camp & hike at Jungle Hill Campground.
This annual celebration is suitable for all ages. Enjoy the company of friends and a chance to meet new ones. Relax, hike a favorite trail or a new one -- or just hang out at camp, hike on your own and enjoy good food and the company of outdoor enthusiasts.
CLICK HERE FOR DETAILS
---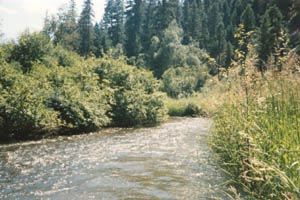 District Court Finds Forest ServiceViolated Law in Sanpoil Case
Spokane, WA. The Kettle Range Conservation Group is celebrating today's decision by U.S. District Court Judge Stanley Bastian finding that the U.S. Forest Service violated the National Environmental Policy Act and the National Forest Management Act in adopting the 2019 Colville National Forest Land Management Plan (Forest Plan) and deciding to proceed with the Sanpoil timber project.
CLICK HERE TO READ THE PRESS RELEASE
CLICK HERE TO READ THE FULL DECISION
---
Lawsuit alleges 43,000-acre forest treatment project will impact lynx
By Mateusz Perkowski-Capital Press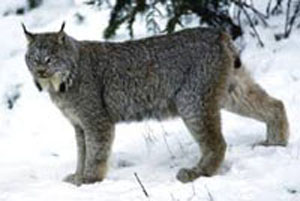 -May 15, 2023

An environmental group seeks to overturn the federal government's approval of 43,000 acres of forest treatments that will allegedly harm threatened lynx in Washington. Last year, the U.S. Forest Service decided to proceed with the Bulldog project to reduce wildfire fuels and improve aquatic habitat, among other objectives, within the Colville National Forest in Northeast Washington. Much of the project area will be treated with prescribed burning and vegetation removal but about 7,000 acres will be commercially logged and thinned in the Kettle Range portion of the Monashee Mountains.

Though the federal government determined the treatments likely will not adversely affect the Canada lynx, which is protected under the Endangered Species Act, the Kettle Range Conservation Group nonprofit has filed a lawsuit alleging that analysis was faulty.
CLICK HERE TO READ THE PRESS RELEASE
---
Feds Must Re-Analyze Impacts of Colville N.F. Cattle Grazing on Endangered Species
SPOKANE, WA.—The U.S. Fish and Wildlife Service informed three conservation groups this month that in response to their litigation threat, it will conduct a new assessment of the impacts of cattle grazing on endangered species in the Colville National Forest. In November 2022, The Lands Council, Kettle Range Conservation Group, and Western Watersheds Project submitted a notice to the U.S. Forest Service and the U.S. Fish and Wildlife Service of their intent to sue under the EndangeredSpecies Act.
CLICK HERE TO READ THE PRESS RELEASE
---
The Future of Forests with Dr. Jerry Franklin
RS Sources and the Center for Responsible Forestry's short film featuring preeminent forest ecologist Jerry Franklin, who is widely recognized as the father of ecological forestry. The Future of Forests with Dr. Jerry Franklin explains what ecological forestry is, and how it can help restore forests to be more resilient to climate change impacts.
CLICK HERE TO WATCH THIS
10 MINUTE VIDEO
---
Wildlife for All is a national campaign to reform state wildlife management to be more ecologically-driven, democratic, and compassionate.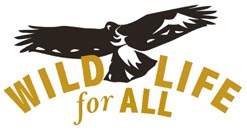 Ecologically-driven, because that is what is needed to protect species and ecosystems in the face of a global extinction crisis.
Democratic, because wildlife is a public trust and everyone should have a voice in wildlife decisions.
Compassionate, because wild animals deserve to be treated humanely and with respect.
KRCG endorses Wildlife for All. Check it out: Click Here
---
Time to Reform Wildlife Governance

By Chris Bachman

The recent resignation of the Washington Department of Fish and Wildlife Commissioner Fred Koontz, Ph.D., exemplifies the inevitably fatal outcome when a compassionate centrist enters a polarized conversation and attempts to build a bridge, bolstered with peer-reviewed science, to preserve our dwindling biodiversity.
READ THE REST OF THE STORY
---
The Colville National Forest turns a deaf ear to collaboration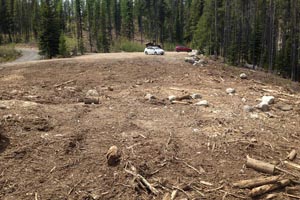 Sad as it is true, the U.S. Forest Service, Colville National Forest (CNF) has returned to its old right-brained habit of ignoring public input, clearcutting and logging ancient forest as evidenced in the Sherman Pass Project. I spent six years collaborating with the CNF on this project. The CNF said it would not be clearcutting the forest, but it did so, a lot. Despite criticism from collaborative interests, the Forest Service is adamant that it did the right thing – and in a Scenic Byway no less

.
READ THE REST OF THE STORY
Overview map with links to pictures CLICK HERE


---
Understanding Wolves - Wolf Behavior and Habituation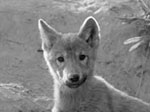 Normal wolf behavior can easily be confused as habituation; becoming too comfortable with humans. Wolves are often described as shy and fearful of humans. Consequently, when a person sees a wolf pup lying in the middle of a dirt road or an adult wolf trails a person through the woods, he/she describes the wolf as exhibiting non-typical behavior or "habituated".
READ THE REST OF THE STUDY
---
The perfect gift...protecting Wilderness

Consider giving a gift membership to Kettle Range Conservation Group. Your gift will help protect the last wild places in the Colville National Forest and support Project Scholarship. Plus your gift is tax deductible.
You can purchase a gift membership by using our secure PayPal account. Please click this link: Join KRCG.
Plus you can download and print a special KRCG gift card to present to your friend.
Click here.
Thank you!
---
---

Kettle Range Conservation Group History
During our 48 years of conservation work we have met many challenges facing our national forests and rural communities throughout northeast and north central Washington.
Our longest running campaign to protect national forest wilderness in the wild and un-roaded backcountry of the
Kettle River
Range
,
Okanogan
Highlands
and
Selkirk Mountains
continues today.
Join KRCG
48 years of conservation work meeting the many challenges facing our national forest.
Your membership or gift
is tax deductible
Donate to KRCG
---
Thanks to all our members and supporters plus Fund for Wild Nature for their support
---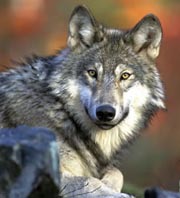 WOLF UPDATES
---
Heavily hunted wolves have higher stress and reproductive hormones

New research suggests heavily hunted wolves experience increased social and physiological stress.
Read the news release
Click Here
---
Conservation Groups Appeal to Gov. Inslee
to Require Rules Limiting Killing of Washington's Endangered Wolves
Eight conservation groups filed an
appeal
with Gov. Jay Inslee to reverse the Washington Fish and Wildlife Commissionís denial of a
petition
asking for enforceable rules limiting when wolves can be killed in response to livestock depredations.
Read the news release
Click Here
---
KRCG notes killing wolves can result in more conflict
Eight conservation organizations, representing hundreds of thousands of Washington residents, are calling on the Washington Department of Fish and Wildlife to rescind a kill order issued earlier this week for wolves of the Huckleberry pack.
Read the news release
Click Here
---