13th Annual Kettle Rendezvous

July 17, 18 & 19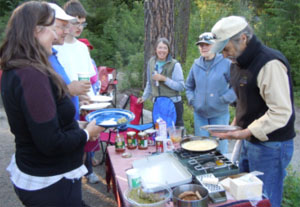 Make plans now to attend the 2015 Kettle Rendezvous at Swan Lake. This is the second year the Rendezvous will be held three days: Friday & Saturday hikes, Saturday barbecue and Sunday breakfast - free to KRCG members -- or $25 for non-members includes a one-year membership, camping, Saturday barbecue, drinks and Sunday breakfast.
This year will be our 13th annual celebration with children and adults of all ages enjoying the company of old friends and the chance to make new ones. The Rendezvous is your chance to relax, go for a hike, swim, kayak, canoe or whatever you choose to do.

RENDEZVOUS SCHEDULE

FRIDAY
Trail maintenance – Ten Mile or Big Lick TBA; meet up at 10:30 AM – contact Tim to sign up tcoleman@kettlerange.org 509 775 2667
Arrive Swan Lake Shelter and set up camp after 1 PM
Where? Swan Lake Shelter, SR 21, 7 miles south of Republic take Swan Lake Rd -- meet and greet, set up camp, swim, fish or hike.
Nearby hikes include - NOTE: Some hikes may be cancelled due to lack of interest

Swan Lake Loop Trail (3.1 mi., easy),

Ten Mile Trail (5 mi., moderately easy),
Fish Lake Trail (.4 mi., easy)

Dinner: on your own
SATURDAY
Breakfast – on your own. Hikers should depart by 9:30 AM
GUIDED HIKES MENU - NOTE: Some hikes may be cancelled due to lack of interest

Kettle Crest: meet at Sherman Pass parking area, 10:30 AM – Hikes: 1)Wapaloosie Mt to Jungle Hill (8 miles, moderate), 2) Columbia Mountain Loop & Lookout (8 mi., moderate), 3) Ryan's Cabin to Stickpin Mt. Trail (6.4 mi., moderate)
Granite Creek: meet at Sweat Creek off SR 20 west of Republic, 10:30 AM :1)Clackamas Mountain Trail, 9.4 mi., moderate, 2) Fir Mountain Trail, 5.2 mi., difficult
Upper San Poil River & Kettle Crest South: meet at SR 20 east of Republic at Hall Creek Road, 10:30 AM,

1) Gibraltar Trail (south loop), 9 mi., moderate,
2) Edds Mountain, 10.6 mi., difficult;
3) Thirteenmile Trail, 9 mi., moderate

Dinner – barbecue (meat / vegie), drinks & Potluck (please bring something to share)

Music – Mark Rhodes plays his guitar and sing
SUNDAY Breakfast
– coffee, pancakes, scrambled eggs
---
TRAIL MAINTENANCE - PLEASE HELP - VOLUNTEERS NEEDED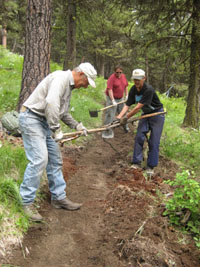 Kettle Range Conservation Group volunteered to help with Colville National Forest trail maintenance this summer on Tenmile, Big Lick and Gibraltar trails. Trail work is both fun and necessary to keep our trails in good shape - so come on out. All skill levels & ages are encouraged to participate. We will provide training for those who need it, and we will not work you too hard!
Gibraltar Trail maintenance
, Saturday, May 30. Meet up 10 AM at intersection of Hall Creek Road and SR 20 about 6 miles east of Republic.. Most of this work is putting up signs and repairing illegal ATV damage to the trail tread. Call 509-775 2667 for more information.

Ten Mile Trail maintenance
. Located ten miles south of Republic on SR 21 at Tenmile Campground. This is pre-Rendezvous fun on Friday July 17
th
. Meet at 10:00 AM to get in a few hours work before all the fun of the Kettle Range Rendezvous (see article in this newsletter). Most of this is basic tread work near the beginning of the trail.
In addition to Gibraltar and Ten Mile maintenance, work parties to repair the
Big Lick Trail
are being planned. More information on future work parties can be found on our website or our Facebook page which we are working hard to keep up to date. If you are not on Facebook you can link to our page at our website. You will not be able to comment, but you can read all of our posts and keep up to date on what is happening.
Please bring food, water, and appropriate gear including long pants, gloves, eye protection and boots are a must. Tools will be provided.
Any question about the hikes or work parties feel free to contact
Dan Price: email: bigdan65@yahoo.com

---
Conservationists Challenge Wildlife Services' Authority to Kill Wolves in Washington

Wildlife Services Activities Threaten Wolf Recovery, Healthy Ecosystems

Olympia, Wash. — The Western Environmental Law Center (WELC) on behalf of five conservation groups, filed a lawsuit against the U.S. Department of Agriculture's (USDA) Wildlife Services program challenging its authority to kill endangered wolves in Washington state.
READ MORE
---
Erosion threats prompt appeal of state timber sale in burned area
Proposed "salvage" sale undermines forest recovery and restoration
A Methow resident was joined by two conservation groups in an appeal of a large timber sale located on state lands which burned and flooded last year. The
Carlton Complex FIT Salvage
timber sale proposes to clear cut 1,200 acres of lightly to severely burned forests by operating ground-based machinery on exposed erosive soils. Research has shown this type of logging dramatically boosts soil erosion, crushes forest regrowth, and undermines forest recovery.
READ MORE
---
Annual Auction a Great Success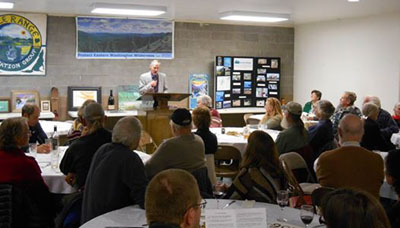 About 100 people packed the Carousel Building in Republic for the annual Kettle Range Conservation Group auction held on November 15. Ninety-seven local businesses and individuals donated auction items in support of the group's community collaborative forestry restoration strategies, recreation trails program, preservation of roadless areas and to provide scholarship grants to students attending college. The homemade dinner, dessert and beverages combined with live music by Mark Walker Rhodes and fun-loving audience made this event one to remember. For those who couldn't make it – we hope to see you at our annual auction next year!

What a Great night! KRCG would like to thank all who attended this years annual dinner and auction and for your generous contributions that helped make this event a success. Also thanks to all the artisans, businesses, and individuals who so generously donated items to our auction. Lastly, thanks to all the volunteers who helped to make this a great night.
---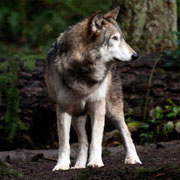 A new wolf pack has been documented by Washington Dept. of Fish & Wildlife in the Kettle River Mountains.
The pack known as the Profanity Pack has taken up residence in the Profanity Roadless Area. There are three adults and three pups in this pack. There are cows bunched up in this area – about 500 of them – and a cow & calf have been killed in the upper Lambert Creek area in the subalpine region of these mountains. This is where the state's plan to use nonlethal means to prevent further depredations must be put in place to protect this endangered species.
Thanks for speaking out for wildlife. - Tim
---
The historic Big Lick Trail in the Kettle River Range was finally cleared of a maze-like tangle of downed trees that had made it completely impassable even to the most rugged outdoors person. Volunteers from Kettle Range Conservation Group and Curlew Job Corps Forestry students put in a herculean effort requiring seven days and 366 person hours to clear 5.5 miles of trail of many hundreds of downed trees that in some locations were piled into twisted trunks and branches over 7 feet deep. Read more:
Consider giving a gift membership to Kettle Range Conservation Group. Your gift will help protect the last wild places in the Colville National Forest and support Project Scholarship. Plus your gift is tax deductible.
You can purchase a gift membership by using our secure PayPal account. Please click this link:
.
Plus you can download and print a special KRCG gift card to present to your friend.
.