Reports

Project Scholarship

About KRCG

---
Highlands
News
Journal of KRCG
Now on-line
Click Here
Made in
Ferry County
with
solar power


Second Annual Wild & Scenic Film Festival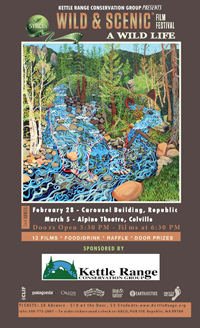 12 Films
Food and drink
Raffle
Door prizes

February 28 - Carousel Building, Republic


March 5 - Alpine Theater, Colville

Doors open at 5:30 PM
Films start at 6:30 PM
Tickets:
$8 Advance by calling KRCG office at
(509) 775-2667 or by mail
$10 At the Door
$5 Students
Click on the poster to view full size and to download and print.
---
Annual Auction a Great Success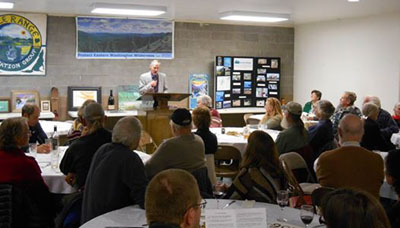 About 100 people packed the Carousel Building in Republic for the annual Kettle Range Conservation Group auction held on November 15. Ninety-seven local businesses and individuals donated auction items in support of the group's community collaborative forestry restoration strategies, recreation trails program, preservation of roadless areas and to provide scholarship grants to students attending college. The homemade dinner, dessert and beverages combined with live music by Mark Walker Rhodes and fun-loving audience made this event one to remember. For those who couldn't make it – we hope to see you at our annual auction next year!

What a Great night! KRCG would like to thank all who attended this years annual dinner and auction and for your generous contributions that helped make this event a success. Also thanks to all the artisans, businesses, and individuals who so generously donated items to our auction. Lastly, thanks to all the volunteers who helped to make this a great night.
---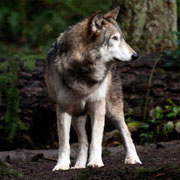 A new wolf pack has been documented by Washington Dept. of Fish & Wildlife in the Kettle River Mountains.
The pack known as the Profanity Pack has taken up residence in the Profanity Roadless Area. There are three adults and three pups in this pack. There are cows bunched up in this area – about 500 of them – and a cow & calf have been killed in the upper Lambert Creek area in the subalpine region of these mountains. This is where the state's plan to use nonlethal means to prevent further depredations must be put in place to protect this endangered species.
Thanks for speaking out for wildlife. - Tim
---
South End Project Objection is Resolved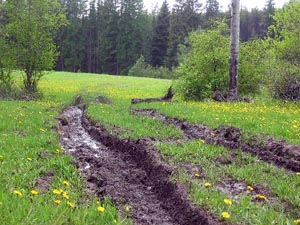 The Kettle Ranger's are pleased to announce settlement of the South End Project. After months of collaborative discussions with county commissioners, representatives of motorized groups and the U.S. Forest Service a resolution was agreed to that includes restoration of riparian and hillside areas damaged by illegal OHV use, signage placement denoting trails open to OHV use and spring to fall policing of the South End Project area. We believe this agreement demonstrates good faith effort to support a defined motorized recreation play area while reducing illegal OHV use and resource damage that result from that.

In addition to resolving disagreements in this case, KRCG Executive Director Timothy Coleman advocated for financial support of the South End Project through his participation in the Colville Resource Advisory Council to the tune of $180,000+
---
Big Lick Trail Reopened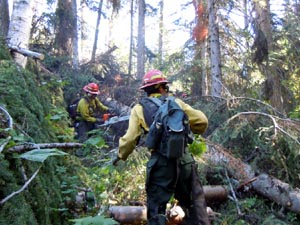 Curlew Job Corps Instrumental in Opening Historic Kettle Crest Trail
The historic Big Lick Trail in the Kettle River Range was finally cleared of a maze-like tangle of downed trees that had made it completely impassable even to the most rugged outdoors person. Volunteers from Kettle Range Conservation Group and Curlew Job Corps Forestry students put in a herculean effort requiring seven days and 366 person hours to clear 5.5 miles of trail of many hundreds of downed trees that in some locations were piled into twisted trunks and branches over 7 feet deep. Read more:
CLICK HERE
---
The perfect gift...protecting Wilderness
Consider giving a gift membership to Kettle Range Conservation Group. Your gift will help protect the last wild places in the Colville National Forest and support Project Scholarship. Plus your gift is tax deductible.
You can purchase a gift membership by using our secure PayPal account. Please click this link:

Join KRCG
.
Plus you can download and print a special KRCG gift card to present to your friend.
Click here
.
Thank you!
---
Independent Study on Impact of Northeast Washington Forestry Coalition (NEWFC) Blueprint

At the request of the Northeast Washington Forestry Coalition, Headwaters Economics conducted an examination of northeast Washington's communities and economy to determine the possible impacts of the "Blueprint" proposal for managing National Forest lands in the region.

Click here to review the results at the Headwaters Economics website.


---

Kettle Range Conservation Group History
During our 38 years of conservation work we have met many challenges facing our national forests and rural communities throughout northeast and north central Washington.
Our longest running campaign to protect national forest wilderness in the wild and un-roaded backcountry of the
Kettle River
Range
,
Okanogan
Highlands
and
Selkirk Mountains
continues today.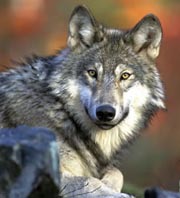 WOLF UPDATES
---

Heavily hunted wolves have higher stress and reproductive hormones

New research suggests heavily hunted wolves experience increased social and physiological stress.
Read the news release
Click Here
---
Conservation Groups Appeal to Gov. Inslee
to Require Rules Limiting Killing of Washington's Endangered Wolves
Eight conservation groups filed an
appeal
with Gov. Jay Inslee today to reverse the Washington Fish and Wildlife Commission's denial of a
petition
asking for enforceable rules limiting when wolves can be killed in response to livestock depredations.
Read the news release
Click Here
---
KRCG notes killing wolves can result in more conflict
Aug. 22: Eight conservation organizations, representing hundreds of thousands of Washington residents, are calling on the Washington Department of Fish and Wildlife to rescind a kill order issued earlier this week for wolves of the Huckleberry pack.
Read the news release
Click Here
---
State Fish and Wildlife Commission Denies Petition to Require Nonlethal Steps to Manage Washington Wolves
•
Press release: Eight Petitioning Groups Will Appeal to Governor
Background:
KRCG Urges Washington Wildlife Agency to End Support for Abolishing Federal Wolf Protections
Read the letters of support:
•
Press release: Rescind Support for Fed Delisting
and
•
Letter to WDFW to Rescind support for Fed Delisting
---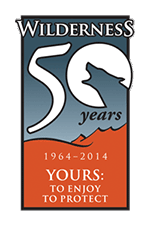 WILDERNESS.NET
is the only officially-recognized, national, comprehensive, inter-agency database of information about Wilderness.